Tag Archives:
astroplus promo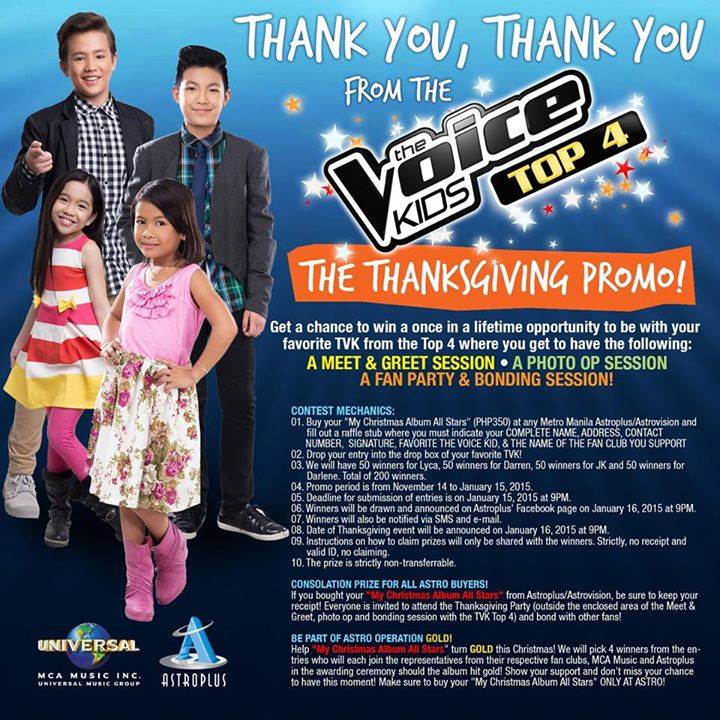 THANK YOU, THANK YOU FROM THE TVK TOP 4: THE THANKSGIVING PROMO!
Get a chance to win a once in a lifetime opportunity to be with your favorite TVK from the Top 4 where you get to have the following:
1) A Meet & Greet session
2) A Photo Op session
3) A fan party and bonding session!
CONTEST MECHANICS:
1) Buy your "My Christmas Album All Stars" (PHP350) at any Metro Manila Astroplus/Astrovision. It will come out in a Special Premium Box packaging and now with PERSONALIZED NOTES (for a limited time only) from the artists and fill out a raffle stub where you must indicate your COMPLETE NAME, ADDRESS, CONTACT NUMBER, SIGNATURE, FAVORITE THE VOICE KID, & THE NAME OF THE FAN CLUB YOU SUPPORT
2) Drop your entry into the drop box of your favorite TVK!
3) They will have 50 winners for Lyca, 50 winners for Darren, 50 winners for JK and 50 winners for Darlene. Total of 200 winners.
4) Promo period is from November 14 to January 15, 2015.
5) Deadline for submission of entries is on January 15, 2015 at 9PM.
6) Winners will be drawn and announced on Astroplus' Facebook page on January 16, 2015 at 9PM
7) Winners will also be notified via SMS and e-mail.
8) Date of Thanksgiving event will be announced on January 16, 2015 at 9PM.
9) Instructions on how to claim prizes will only be shared with the winners. Strictly, no receipt and valid ID, no claiming.
10) The prize is strictly non-transferrable.
More info at https://www.facebook.com/Astroplus1