Tag Archives:
astroplus promos august 2014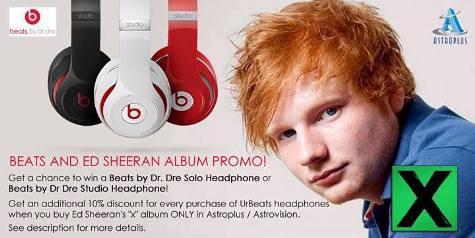 Sheerios! Join Astro's Beats and Ed Sheeran "X" Album Promo!
Mechanics:
1) Get a chance to win Beats by Dr. Dre (Solo HD and Studio) for every purchase of Ed Sheeran "X" album. Strictly 1 raffle entry per album.
2) Do not forget to keep the receipt as a proof of your purchase.
3) Get an additional 10% discount on UrBeats earphones when you buy Ed Sheeran's "x" album. To avail of the discount, fill up the form at the back of the coupon wrapped around the specially marked CDs and surrender at the following Astroplus / Astrovision branches only:
Astroplus SM MOA
Astroplus SM Aura
Astrovision Shangri-La
Astrovision Greenbelt 5
Astrovision V-Mall
4) Write your name and signature on your receipt and email a photo of it to astropluspromo@gmail.com with the subject [ED SHEERAN Album x BEATS GIVEAWAY] and include the following details:
o Name
o Cellphone No.
o E-mail address
o Branch where album was purchased
o Answer the question: WHY DO YOU LIKE ED SHEERAN AND WHY DO YOU DESERVE TO WIN THE BEATS HEADPHONE?
5) 8 lucky winners will be drawn electronically on September 30, 2014
Promo Period: June 23 to September 30, 2014 only.
More info at https://www.facebook.com/Astroplus1