Tag Archives:
astroplus win a bose headphones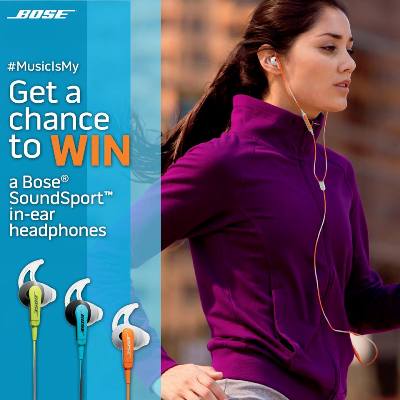 Here's your chance to win a Bose SoundSport in-ear headphones!
Promo Mechanics:
Open to all customers.
Like Eleksis Marketing Corporation's Facebook page to qualify.
Post your workout photo and fill in the blank:
"I deserve a Bose SoundSport headphone because when I work out, #MusicIsMy_______."
Tag the Facebook pages of Eleksis Marketing Corporation, Astroplus and 5 of your friends on your post.
Top 5 participants with the best answers chosen by Eleksis Marketing Corporation will win the contest.
Promo Period is from March 1 – 31, 2015.
The winner will be announced on April 6, 2015.
Promo Prizes:
1st Place – Bose SoundSport, Bose powerbank and Bose T-shirt
2nd Place – Bose SoundSport and Bose T-shirt
3rd Place – Bose SoundSport
4th Place – Bose Powerbank and T-shirt
5th Place – Bose Powerbank and T-shirt
More info at https://www.facebook.com/Astroplus1