Tag Archives:
astroplus win a trip to calaguas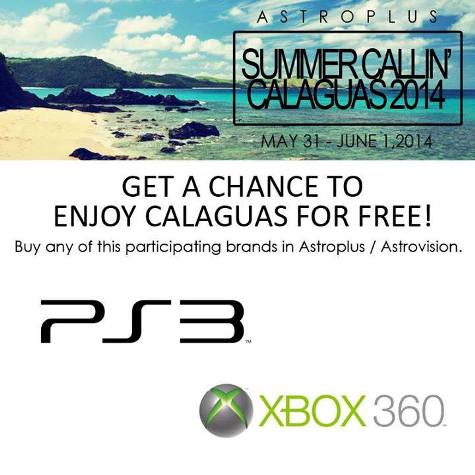 PS3 and XBOX 360 + ASTRO WILL TAKE YOU AND YOUR FRIEND TO CALAGUAS FOR FREE!
The Calaguas is a group of islands in the Philippine province of Camarines Norte. It boasts of crystal clear waters, unspoiled natural resources, and powdery white sand beaches.
It is becoming one of the most talked about island after Caramoan.
Summer Callin' Calaguas 2014 Promo Mechanics:
1. The promotion period is from February 15, 2014 – April 15, 2014.
2. Every P500 single receipt purchase of any products at any Astroplus / Astrovision branch entitles the customer to one raffle coupon for a chance to win a trip for (2) to Calaguas Island. Preferred group trip will be on May 31-June 1, 2014.
3. Fill-up the raffle coupon with your name, address, contact number, e-mail, branch and affix your signature at the space provided for.
4. Drop your entry at drop boxes located at the counter of participating Astroplus / Astrovision outlets.
5. Residents and non-residents of the Philippines with a valid passport are eligible to join the promotion.
6. Winners will be drawn via raffle draw on April 29, 2014, 5:00 pm at Astroplus Podium branch in the presence of representatives from the Department of Trade and Industry (DTI) and Astroplus
8. 20 winners will be drawn and a participant can only win once. if there's a 20% tax winner will be the one to shoulder.
9. Deadline for submission of entries is on April 15, 2014 end of mall hours.
10. Winners will be notified through registered mail and telephone call for further instructions on how to claim their prize. To claim prizes, winners must present a valid id, the winning raffle stub and receipt.
More info at https://www.facebook.com/Astroplus1