Tag Archives:
axe apollo space academy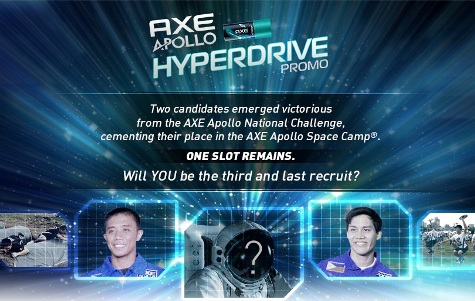 Two candidates emerged victorious from the AXE Apollo National Challenge, cementing their place in the AXE Apollo Space Camp.
One Slot Remains.
Will you be the third and last recruit?
How to Win
Step 1:
Buy a can of AXE Apollo Body Spray
Step 2:
TEXT "AXE [store name] [last 3 digits of receipt number] send to 2600
Ex: AXE 7-Eleven Valero 864
Step 3:
Get a chance to WIN a trip to space! or one of 30 SAMSUNG GALAXY S3 MINI Smartphones.
Promo lasts until September 29, 2013
More info at https://www.facebook.com/axephilippines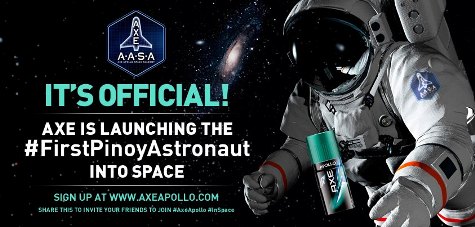 YOU could be the first Filipino in space!!!
Sign up for the AXE Apollo Space Academy and get your friends to vote for you. The people with most votes will advance to their National Challenge.
National Challenge
You'll compete in your own Country. The top recruits will advance to Global Space Camp.
Global Space Camp
Compete at the AASA Global Space Camp for a chance to join international crew and be sent to space.
More info athttps://www.facebook.com/axephilippines