Tag Archives:
azta urban salon freebies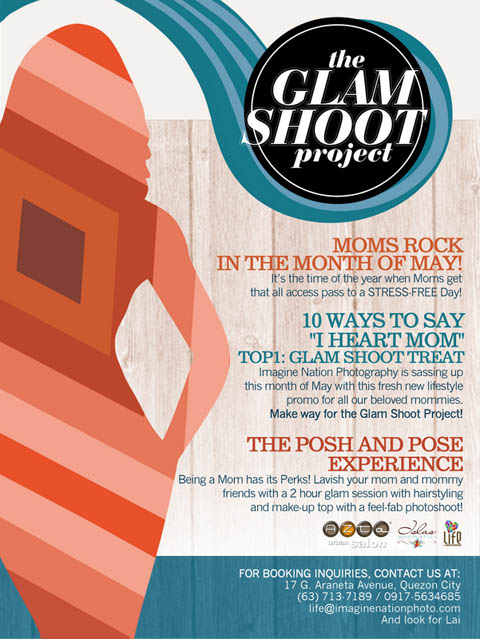 Here's to the Most Glamorous Women We Know: Our Moms!
Imagine Nation Photography (INP), one of the top wedding and lifestyle photography companies in the country, turns to bless these loving, hard-working women with a new lifestyle promo offered exclusively for them. It's The Glam Shoot Project–a posh-and-pose experience wherein moms can get dolled-up and be like supermodels for a day!
The Glam Shoot Project is the ultimate mothers' day treat, perfect for giving our amazing mommies their well-deserved day out. This two-hour glam session comes complete with hairstyling, make-up, and a fun photo shoot session with our Imagine Nation photographers.
This glam shoot package is easily affordable at P5,000 and is bundled with a (1)proof CD and an 8×10 print out of your most favorite shot. On top of that, mommies may also celebrate this experience with these special keepsake add-ons:
8 x 8 BRAGBOOK ALBUM, A handy coffee table book type of album with 10 spreads, 20 pages [40 images] – PHP 5, 000
10 X 10 BRAGBOOK ALBUM, A handy coffee table book type of album with 10 spreads, 20 pages [60 images] – PHP 6, 000
TOP TEN PACK, Pick out your top ten images from the proof CD and have them edited and emailed to you [ 10 images]– PHP1,500
8 X 10 PRINTS – PHP300.00 / PRINT
5 X 7 PRINTS – P150.00 / PRINT
And to make this deal even sweeter, our glamorous mommies will also get to take home fabulous goodies from Azta Urban Salon and Islas Aromatics!
So allow us to bring out the captivating beauty of the most special women in your lives! Book now and lavish your mom and mommy friends with a glam shoot treat they will never forget!
For reservation inquiries, email us at life@imaginenationphoto.com or contact us through these numbers: (63) 713-7189 / 0917-5634685. Look for Lai.