Tag Archives:
bamboo manalac concert 2014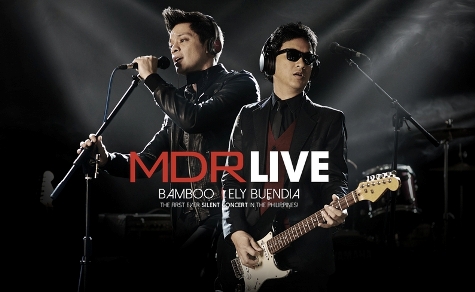 Get up close and personal with rock icons Bamboo Mañalac and Ely Buendia as they perform at MDR Live – an enclosed set-up where the audience is immersed in the first ever silent concert wearing their Sony MDR Headphones.
Promo Mechanics
1. Every purchase of any participating Sony headphones from any authorized Sony dealers with promo posters automatically entitles the customer to the Music Deserves Respect Promo.
2. The customer can get concert tickets of Ely Buendia and Bamboo Mañalac which will be held on March 18, 2014 at Rockwell Tent, 7pm.
a. Customers who purchased models with price Ph 15,000 and above will be given two concert tickets
b. Customers who purchased models lower than Php 4,999 – Php 14,999 will be given one ticket
3. Upon purchase, customers should fill out the warranty card (2 copies) with the ff. details (name, address, mobile number, and e-mail address). He/she should leave one copy with the Sony promoter. The Sony Promoter would then submit the card to the head for encoding.
4. To avail of the promotion, customers should register online at http://www.sony.com.ph/MDRpromo and fill out the following details and press send. Deadline of registration is on March 17,2014 at 11:59PM.
a. Name
b. Address
c. Contact No.
d. Email address
e. Model name
f. Warranty card no.
g. Invoice no.
h. Store/Branch Purchased
5. Customers will receive an automatic notification after the registration. Sony will be sending an email and registered mail to all the customers who registered to the promotion.
6. For the concert tickets, the customers must present the print-out of the email notification, warranty card, along with 2 valid IDs on the concert day (March 18, 2014) to claim their official tickets from Sony's booth at the concert venue from 9am to 7pm.
7. This promo doesn't include the airfare, hotel accommodation and pocket money of all the customers who avail of the promotion.
8. Registration can be done more than once depending on the number of participating models of headphones purchased. Prizes are transferrable but not convertible to cash.
9. Promo runs from November 29, 2013 to March 17, 2014.
More info at http://www.sony.com.ph/microsite/mdrpromo/mdrlive.html