Tag Archives:
bazaar raffle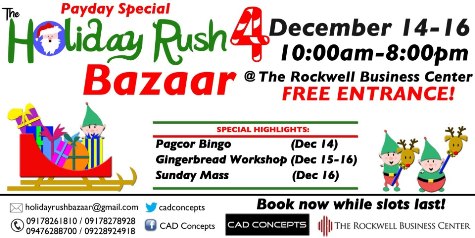 THE HOLIDAY RUSH 4 @ Rockwell Business Center, Ortigas Center, Pasig City on December 14 (Friday) to December 16 (Sunday), from 10:00AM to 8:00PM. Shop from over 130 stalls selling a wide-array of items such as clothing, accessories, bags, toys, home decor, gift items and many more!!! Also watch out for a wide selection of pastries and giveaways, best for gift-giving during the coming holidays.
Meet & Greet SANTA CLAUS and witness our line-up of FUN-FILLED ACTIVITIES @ THE HOLIDAY RUSH 4 such as:
PAGCOR BINGO (Friday)
GINGERBREAD WORKSHOP (Saturday & Sunday)
MASS SERVICE (Sunday)
HOURLY RAFFLE DRAWS, FREE GIFT WRAPPING SERVICES AND A LOT MORE FREEBIES & SURPRISES ALSO IN STORE FOR EVERYONE @ THE HOLIDAY RUSH 4.
More info at http://www.facebook.com/CADConcepts