Tag Archives:
coca cola 2013 promo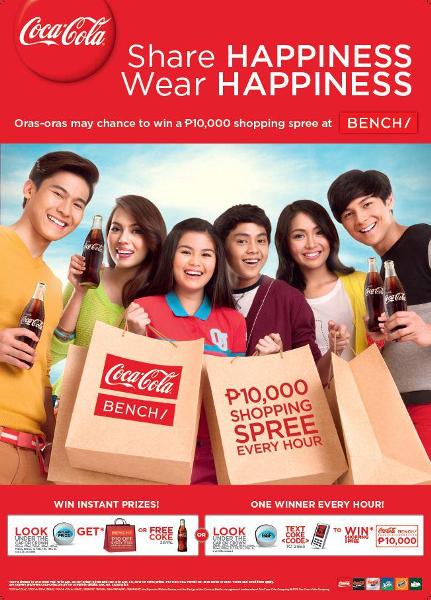 Mechanics:
1.Promotion period is from February 15 to April 30, 2013
2.The promotion is open to subscribers of Smart, Sun, and Globe both in post-paid or pre-paid plans, who are residents of the Philippines. Text message entry requires compatible mobile phone with text messaging and data service. Some restrictions apply.
3. Participating brands: COKE REGULAR, COKE LIGHT, COKE ZERO, SPRITE, ROYAL TRU-ORANGE AND SPARKLE.
4. To participate in the promotion, consumers must purchase any of the participating brands and and text-in the promo code that can be found under the caps or crowns of the participating pack sizes:
Under the crown for Sakto 200ml, 237ml, 240ml, 355ml variants
Under the cap for  1L, 750ml, and 800ml glass bottles
Under the cap for  500ml, 1.25L, 1.5L, 1.75L, 2L and 2.25L plastic bottles
5. TO JOIN, Consumers must  simply text in his/her entries using the following format
                           COKE    to 2653
                                Example:             COKE 1234ABC to 2653 
6. Consumers will then receive a message for a ONE-TIME registration in the format below.
                   COKE REG // to 2653
Example:             COKE REG Franco Santiago/26/ 2129 Chino Roces Ave., Makati City
Registration is FREE of charge. After registration, a confirmation message will be sent to the consumer acknowledging his/her registration. There can only be one official registered participant per mobile phone number. Incomplete registration details will be disqualified.
7. A valid entry should consist of the ff:
Prior and proper completion of the One-Time Registration
A valid and current mobile phone number from SMART, GLOBE, or SUN
Participants name to validate the promo code (Participants name should be the same as the officially registered participant's name per number 6 above for the specified mobile phone number)
A valid promo code generated by the official service provider of Coca-Cola for this promotion*
Proof of Purchase – A valid and official cap/crown of the participating products stated above
* All promo codes will be submitted to FDA sealed. This will only be opened when a consumer complaint arises
8. Registered consumers will be allowed to text-in as many valid entries as they can during the promo period. To note:
Each entry is valid for all draws until the cut-off date or until it wins in the raffle
All non-winning entries automatically qualify for the succeeding draws.
*Deadline for sending valid entries is on April 29, 2013 at 11:59PM
9. PRIZES: Participants who text-in valid entries or look under the cap or crown have a chance to win:
INSTANT PRIZES:   
1. BENCH DISCOUNTS:
Just look under the cap or crown and redeem in participating Bench stores nationwide. Get "P10 OFF for a minimum P100 single-receipt purchase". The discount is available to all consumers with an official cap or crown with P10 OFF printed under the cap or crown. The Price Off will be given at the establishment's cashier at the time of purchase as a deduction from the purchase price of the product. All caps or crowns must be surrendered to claim the Price-Off
Subject to the following terms and conditions:
Valid for purchases of regular items only.
Only 1 crown or cap per transaction.
Valid for only cash transactions and card.
Not valid for purchases using gift certificates.
Not valid for purchases of gift certificates.
Not valid for purchases of sale items, gift packs and bundled items.
May not be used in conjunction with other promotional offers.
No additional discount will be given for Privilege Cardholders.
Final Bench Discount redemption day is June 30, 2013
Go to www.coca-cola.com.ph for list of participating Bench Stores
2. COCA-COLA 8oz:
Just look under the cap or crown and get a Coca-Cola 8oz instantly (contents only). Redeem in participating sari-sari stores nationwide until June 30, 2013 only. Contact Coca-Cola Contact Center Hotlines (Toll Free Numbers) for list of participating stores nationwide: PLDT/SMART/TALK N' TEXT: 1800-1-888-COKE (2653); GLOBE: 1800-8-888-COKE
MAJOR HOURLY RAFFLE PRIZE:  Bench Gift Certificates worth Php 10,000
Bench Gift Certificates worth Php 10,000 will be raffled off electronically and will be allocated every hour, every day for each promo week.
A total of 1,440 Bench gift certificates will be awarded throughout the promo period. An hourly winner's name will be chosen via electronic raffle. All prizes are tax-free. A participant can only win once.
Promo Duration is 60 days x 24 hours = 1,440 winners
Raffle Prizes: A total of 1,440 Bench Gift Certificates will be awarded throughout the promo period. A winner's name will be chosen via electronic raffle. A participant can win only once throughout the entire duration of the promotion for the hourly raffle prize. All prizes are tax-free and not convertible to cash.
More info at https://www.facebook.com/PresidentforHappiness