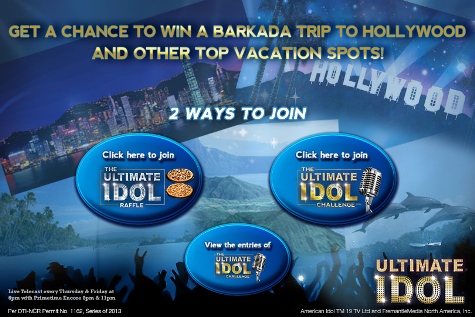 Sing your way to become the next Greenwich ULTIMATE IDOL and win a trip to HOLLYWOOD, USA to watch the AMERICAN IDOL SEASON 12 FINALE!
Your Assignment:
Sing your best or your fave song!
Fill out the form with your complete contact details. CLICK HERE
Upload your solo audition video that is not more than 3 minutes long.
Watch American IDOL and sing along to your favorite tunes while eating Greenwich Overloaded pizzas!
Prizes:
1st Place – Trip for 3 to HOLLYWOOD
2nd Place – Trip for 3 to HONGKONG
3rd Place – Trip for 3 to BORACAY
4th Place – Hotel accommodation in TAGAYTAY
6th Place – Hotel accommodation in BATANGAS
More info at https://www.facebook.com/GreenwichPizza