SMART Rewards Promo

Getting rewards points is a snap with SMART Rewards. You earn rewards points for many SMART transactions such as reloading,
VAS downloads, IDD calls and bill charges. You even get bonus points on your birthday or every quarter for staying with SMART!
BONUS POINTS
BIRTHDAY POINTS
Get 5,000 rewards points on your birthday.
Just text REWARDS BDAY bday in mmddyyyy,gender in M/F,marital status in S/M
and send to 9800 for free
example: REWARDS BDAY 01311983,F,S
E-STATEMENT ENROLLMENT
Enroll your account for SMART's paperless billing and you get 500 points every month for as long as you are enrolled in the e-Statement. Click here for more details
POINTS EXPIRATION
Your account earns rewards points even when you have not joined SMART Rewards yet. However, you will need to register to SMART Rewards to start using your points. Points for registered subscribers also have a longer validity period:
Registered – points are valid for twelve (12) months from the month the points were earned.
Non-Registered – points are only valid for six (6) months.
Points are expired every first day of the month.
Get Free Items
When you have accumulated enough points, you can use your points to get free items for your account.
Refer to the table below for a list of redeemable items available for you. Check the instructions on the rightmost column for details on how to claim your chosen item: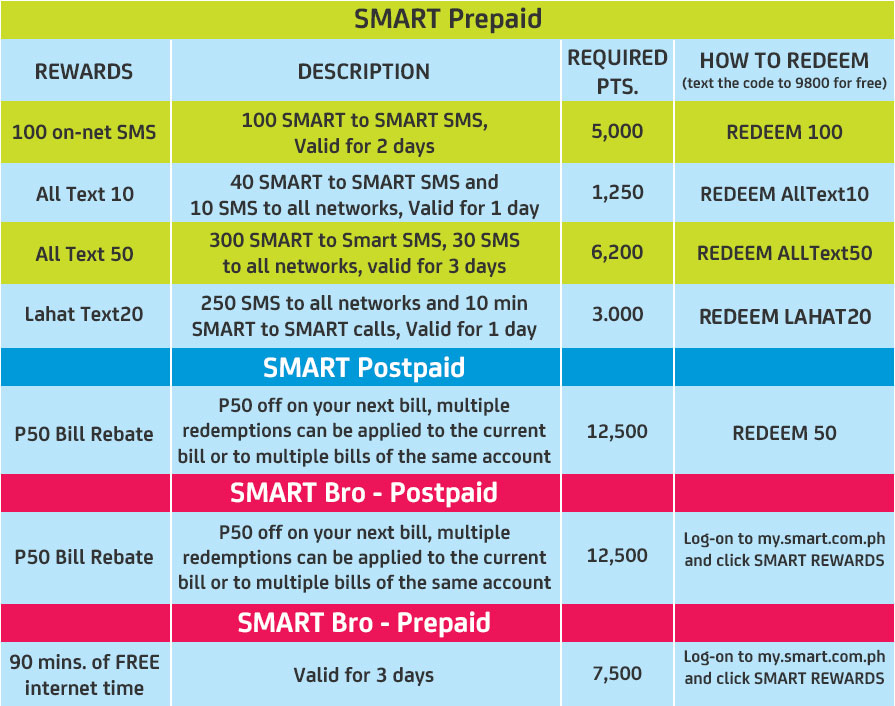 More info at http://rewards.smart.net.ph/