EQ Disney Christmas Treat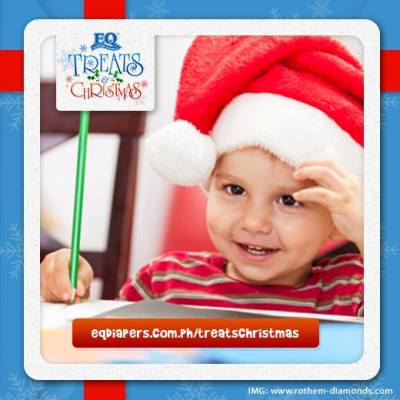 Get into the holiday spirit early with EQ Treats of Christmas promo and get a chance to win a trip for four (4) to Disneyland!
Promo Period: October 17 – December 12, 2014
ABOUT THE PROMOTION:
EQ Disney Christmas Treat is a website application wherein participants will share an EQ Christmas Greeting Card with their Family photo.
HOW TO JOIN:
To be eligible participants of EQ Disney Christmas Treat Promo, they must be a fan of EQ Facebook page.
Once they like the page, they must click the EQ Disney Christmas Treat Promo app tab located below the cover photo of the EQ Diapers' Facebook fan page.
To register, interested participants must follow the following steps:
Participant must register in EQ Disney Christmas Treat Promo app Registration section. They must allow the Facebook authorization pop up to gather their Facebook details and complete the application form with the following details: Guardian's name, address, email address, contact numbers, gender, baby's name, baby's birth date, baby's age and baby's gender. Make sure that all fields are filled up properly before saving.
After completing the registration form, interested participants must upload a photo with their baby wearing EQ Diapers or a purchase receipt as proof of purchase. Photo to be uploaded should not be more than 150kb each in either JPEG or PNG format. Photos of the baby should be original and not yet used in joining in any other contest. Participant is the owner of the photos. Photos grabbed from the internet will not be honored and considered disqualified.
After uploading their baby's photo, participant must upload a photo of their family to be included on the Greeting card that they will share. Family photo has different themes weekly. Again photo must be owned by the participant and not grabbed from the internet.
All weekly valid entries within the duration will be raffled off. There will be different themes per week.
One lucky weekly winner will win different Disney character stuff toys/accessories.
A participant can join once a week but could only win once within the duration of all weekly draws
All entries received within the whole duration of the promo will be included on the Grand Draw to get a chance to win a trip for four (4) to Hongkong Disneyland.
A weekly draw winner could also win in the Grand draw
Grand Prize
One lucky raffle winner will win a 3D/2N trip to Hongkong Disneyland for four (2 Adults and 2kids). Weekly raffle winners will receive different Christmas gifts.
PACKAGE INCLUDES:
3d2n Hotel Accommodation
Round Trip Airport – Hotel – Airport Transfer
Daily Set Breakfast
Compulsory Hongkong City Tour
Half day Disney land tour
More info at http://www.eqdiapers.com.ph/treatschristmas/mechanics