Fun in the SUN Video Contest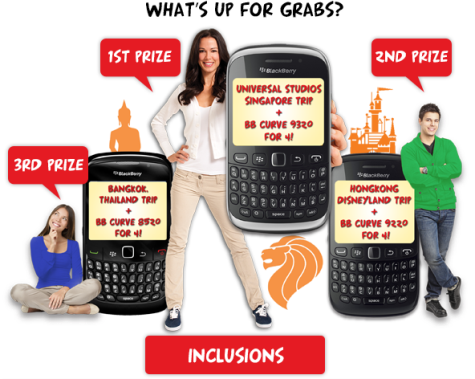 How to Join?
1.Visit the Sun Cellular Sun BlackBerry Video Contest microsite at http://www.sunblackberry.com.ph to know more about the promo.
2.Make your own Sun We Can Do Anything video.
3.Make sure all Sun BlackBerry mandatories are creatively incorporated in the video such as:
a. Unlimited Sun Calls
b. Unlimited Sun Texts
c. BBM
d. Mobile Internet
e. Social networking
4.Video should be minimum of 1 minute but maximum of 3 minutes. File size must not exceed 5MB.
5.Video file formats accepted are: AAC, AVI, 3GP, FLV, MOV, MP3, MP4, MPEG, OGG, WAV, WEBM, WMA and WMV.
6.Sun Cellular will post all the qualified entries in the gallery of the Sun BlackBerry microsite.www.sunblackberry.com.ph
7.Criteria for judging are:
a. 10% Likes and Shares on the Microsite
b. 40% Adherence to the Sun BlackBerry mandatories
c. 50% Creativity
8.Last day of submission of video entries is on January 6, 2013 at 11:59 PM
9.The winners will be announced on January 11, 2013. A participant may only win once
Promo Period: October 3, 2012 – January 6, 2013
Prizes:
*1ST
•3D/2N accommodation with breakfast in Marina Bay Sands (Twin-Share Rooms)
•Round Trip Airfare via Philippine Airlines
•Roundtrip airport transfer
•Full Day Universal Studios Tour and city Tour with Singapore Flyer
•USD $ 100 each day per person
•1 pc of BlackBerry Curve 9320 per person
*2ND
•3D/2N accommodation with breakfast in Marco Polo HongKong Hotel (Twin-Share Rooms)
•Round Trip Airfare via Philippine Airlines
•Roundtrip airport transfer
•Full Day HongKong Disneyland Tour and city Tour
•USD $ 100 each day per person
•1 pc of BlackBerry Curve 9220 per person
*3RD
•3D/2N accommodation with breakfast in Lebua at State Tower (Twin-Share Rooms)
•Round Trip Airfare via Philippine Airlines
•Roundtrip airport transfer
•Bangkok City Tour
•USD $ 100 each day per person
•1 pc of BlackBerry Curve 8520 per person
More info at http://www.sunblackberry.com.ph