MYX WER U AT? Goes to Korea Viewer Promo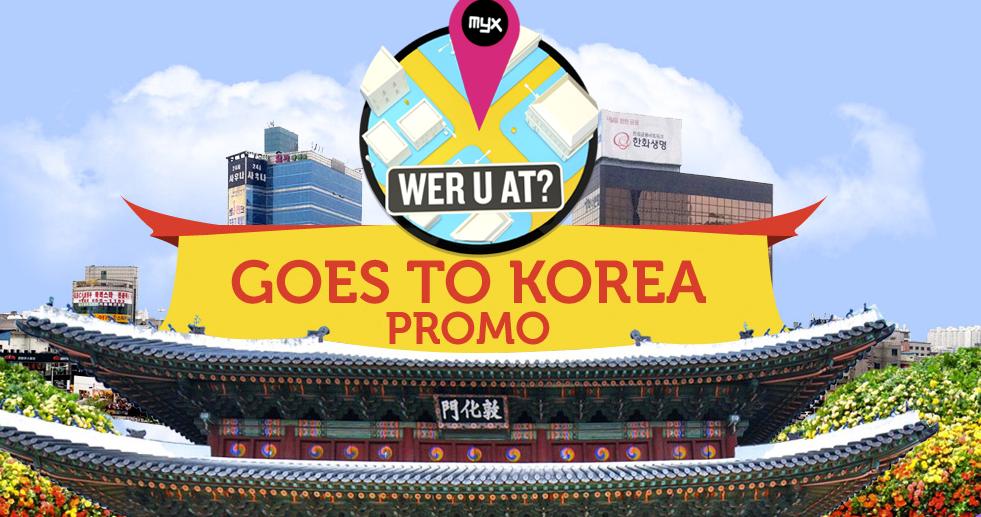 This October 2014, MYX takes one (1) lucky viewer and her chosen companion to Seoul, Korea.
HOW TO JOIN
Viewer must tune in to MYX Philippines (Skycable channel 23, Destiny Cable Digital channel 23, and Cablelink channel 223) starting September 15 up to September 30, 2014 and watch out for the "MYX Wer U At? Goes to Korea Viewer Promo" plug which will air all day on the channel during the aforementioned dates. The contest question, "What would you and your friend do to win a trip to Korea with one of your favorite MYX VJs?" will flash on screen and viewer must answer this by sending in an online entry.
For an entry to join the promo, viewer-participant must log on to www.myxph.com, MYX Philippines' official website and click the "MYX Wer U At? Goes to Korea Viewer Promo" tab from the homepage. From here, viewer-participant must answer the promo question stated above (also stated in the promo page) in no less than 200 characters and no more than 1000 characters, fill up the rest of the entry form with her complete name, address, & contact details, cable subscription details, passport number, passport expiration date, and attach a recent photo in JPG format that is no larger than 2 megabytes (2MB) in size, and upload a photo of her and her chosen companion. Once done, viewer-participant must click "Submit" to send in her valid entry and all documents submitted along with it.
Deadline for submission of the foregoing is at 11:59pm of September 30, 2014 (Tuesday).
Only one (1) valid entry per person is allowed for this promo. Multiple entries from one person will not be allowed. A prompt from the promo website will pop out of the screen should a participant attempts to join the promo again.
PRIZES
There will only be one (1) grand prize for this promo.
The Grand Prize is a 4-days/3-nights vacation package for two (2) to Seoul, Korea on October 28 to 31, 2014 that includes:
Roundtrip economy-class airfare for two (2) to Seoul, Korea inclusive of travel tax.
4-days/3-nights Standard Hotel Accommodations in Seoul, Korea for two (2) persons (twin sharing) starting October 28 up to October 31, 2014, regardless whether or not the winner has a companion.
Great Korea Tour for two (2) persons
Two (2) set passes for an Mnet Studio Tour on October 30, 2014
Full day inland transfers in and around Seoul, Korea (including transfers to and from the Incheon International Airport) for the duration of travel.
5 days standard Travel Insurance Coverage (from October 28, 2013 to November 1, 2014 – Manila Time) for the declared winner and her companion (as the case may be) for the duration of the trip.
More info at http://koreainvasion.myxph.com/