GREENMEADOWS Xmas Rush Bazaar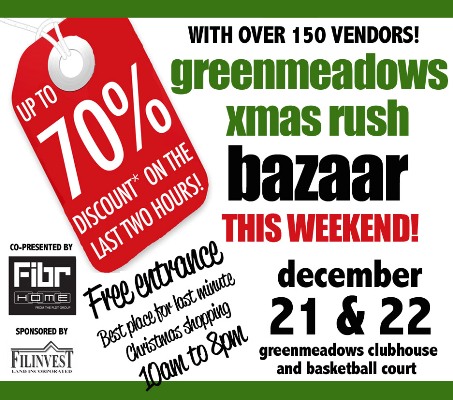 PERFECT PLACE FOR LAST MINUTE CHRISTMAS SHOPPING!!!
UP TO 70% DISCOUNT ON THE LAST 2 HOURS OF THE BAZAAR!!!
Don't miss the GREENMEADOWS XMAS RUSH BAZAAR on December 21 & 22, 2013 (10am-8pm) at the Greenmeadows Clubhouse and Basketball Court.
Over 150+ BOOTHS for all your shopping needs! No need to get stuck in traffic or go to the crowded malls. Enjoy stress-free shopping at the Greenmeadows Bazaar THIS WEEKEND!
More info at https://www.facebook.com/greenmeadowsxmasrushbazaar