JCB Card Php50 off SM Cinema Tickets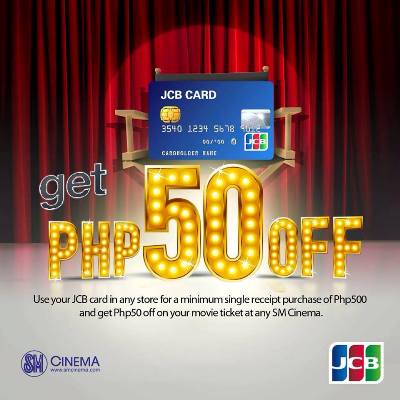 Shop with your JCB card and get discounts on your SM Cinema tickets.
Promo Period: August 1-September 30, 2013
1. Coverage.  The Campaign is open to all internationally and locally issued JCB Cards (credit, prepaid, and debit) which are valid at the time of the JCB Cardmember redemption (not blocked or cancelled, closed, written off, or suspended).
2. SM Cinema Discount.  JCB Cardmembers are entitled to a FIFTY PESO (Php50.00)-discount on SM movie tickets at all SM Cinema outlets nationwide for every single charge slip with minimum spending amount of FIVE HUNDRED PESOS (Php500.00) anywhere.