Astroplus: Win KPOP REPUBLIC ConcertTickets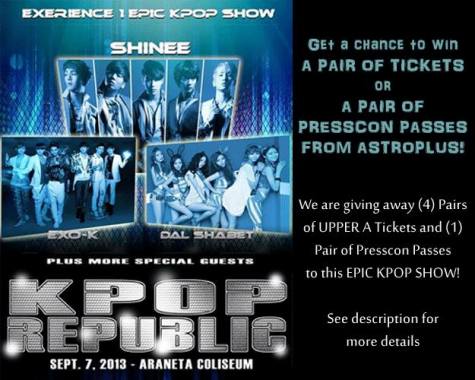 Get a chance to win a pair of tickets or a pair of presscon passes to KPOP REPUBLIC!
Mechanics:
1.) Grab a copy of either of the following albums:
Shinee's Why So Serious
Shinee's Dream Girl
Exo's XoXo
at any Astroplus or Astrovision store near you starting September 1 – September 6.
2.) Send an email to astropluspromo@gmail.com with the tilte "KPOP REPUBLIC PROMO" Include your full name and contact no. and attach a picture of your receipt (** Please indicate on your receipt in your handwriting the concert promo you'd like to join with your full name and contact details as well.)
4.) One album is equivalent to one raffle entry.
5.) Deadline of entries is on September 6 at 6pm
6.) Announcement of winners will be on September 6 at 8pm
7.) Winner will be selected randomly and will be given a pair of premium tickets.
8.) Details on how to claim the tickets will only be shared with the winner.
More info at https://www.facebook.com/Astroplus1