BPI and Melo's Great Angus Sale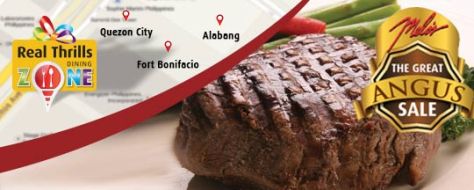 40% OFF on all Angus steak dishes everyday at Melo's
Promo Mechanics:
The promo is open exclusively to existing cardholders of the following BPI Credit Cards with good credit standing:
 BPI Express Credit Card (Classic, Blue MasterCard, Gold MasterCard, Petron-BPI MasterCard, BPI WorldPerks MasterCard, BPI SkyMiles MasterCard, BPI SkyMiles Platinum MasterCard, BPI Amore Visa, BPI Amore Visa Platinum, Edge MasterCard, Corporate Classic and Corporate MasterCard)
BPI Family Credit Card
(Note: BPI Express Credit Classic and Corporate Classic cards are accepted only in stores where a BPI point-of-sale terminal is available.)
Promo period is from October 1 to December 15, 2014.
Cardholder should use any of their BPI Credit Card during the promo period to get 40% OFF on all Angus Steak dishes.
More info at http://www.bpicards.com/RealThrills/Details/2192