EastWest: Free SM Cinema Movie Cards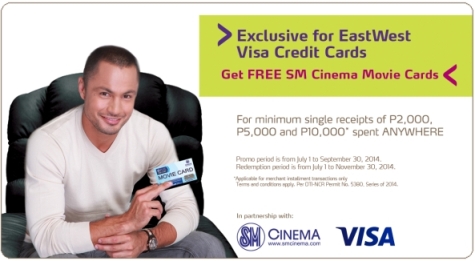 VISA EXCLUSIVE: Get FREE SM Cinema Movie Cards for minimum single-receipts of P2,000, P5,000 and P10,000 spent ANYWHERE with your EastWest Visa Credit Card.
Mechanics:
The promo is exclusive to EastWest Gold & Classic Visa and LausAutoGroup Visa Credit Cardholders ("EastWest Visa Cardholders") in good credit standing*. Other EastWest Credit Cards which do not carry the Visa mark are excluded from this promo.
Promo period is from July 1 to September 30, 2014. Redemption period is from July 1 to November 30, 2014.
To qualify for FREE SM Cinema Movie Cards, the EastWest Visa Cardholder must make a purchase using his/her EastWest Visa Credit Card at any merchant during the promo period corresponding to the spend requirement below:

More info at http://eastwestbanker.com/info/promo_SMCinema.asp