My ePrepaid Shopfinity Board Contest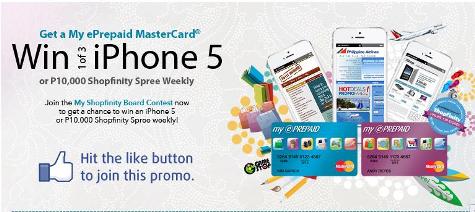 Get a My ePrepaid Master Card and join the My Shopfinity Board Contest to get a chance to win an iPhone 5 or P10,000 Shopfinity Spree weekly!
Make your own My Shopfinity Board.
Like the My ePrepaid fan page
Go to the My Shopfinity Board App
Register to the PROMO
Upload photos  showing how you will spend P10K
Vote  & Share for your favorite entries.
10% No. of votes
30% Creativity
40% Emobodiment of the My ePrepaid MasterCard brand
20% Relevance to the theme
Most Creative Board Wins!
Contest Period: Otober 31, 2012 – February 1, 2013
More info at https://www.facebook.com/eprepaid