Powerpops: Win an iPad Air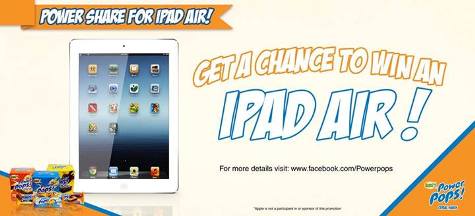 Powerpops now brings you: Power Share for Ipad Air!
Mechanics:
1. Participants must like the Powerpops Facebook page at https://www.facebook.com/Powerpops
2. Share the promo poster. Make sure to include the hashtags,#PowerShareForiPadAir and #Powerpops to be considered an official entry.
3. Participants may only share the promo poster once.
4. Promo period is from June 30 – July 30, 2014
5. Winner of the iPad Air will be announced via Powerpops FB page on August 4, 2014. Consolation prize in a form of gift packs will be given to two other participants.
More info at https://www.facebook.com/Powerpops