Mcdo Fries Heist Game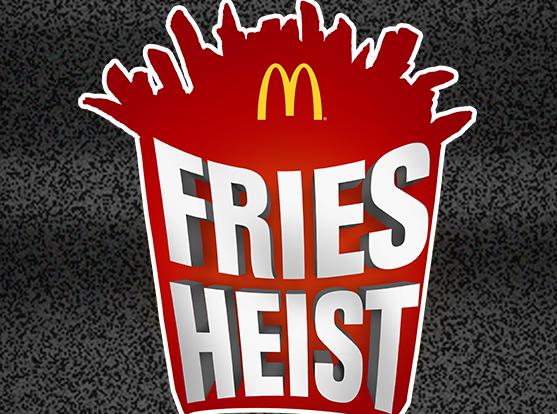 Who took the World Famous Fries? Play the Facebook Fries Heist game and get a chance to win FREE fries for 100 days & 5K worth of GC
Promo Period: April 11 to April 19, 2013.
Videos will be released from April 11 to 14, 2013
Voting will start April 14, 2013
MECHANICS:
Open to all McDonald's customers who are currently residing in the Philippines, with Facebook accounts.
"Like" the McDonald's Facebook page:https://www.facebook.com/McDo.ph
Open the Fries Heist Facebook Tab. Join by allowing the app to link to the user's Facebook account.
The user will first view all the CCTV videos  (5 videos total).
Once user is ready to answer, he/she will click on the GUESS button.
The user will then see screen shots of the 5 CCTV videos.
He/she will then put on the space provided who he/she thinks got the fries.
User will then need to click the SUBMIT button
A pop up box will then appear where the user will be asked to register their Name, Registered Address, Email Address and Contact Number/s.
Before the user can click on the SUBMIT button to officially send his/her entry, the user should tick the box of "I have read/agreed the Terms and Conditions."
Finally, user needs to click on SUBMIT.
To be considered a valid entry, the user must have followed # 10 and 11 and must have completely filled out his/her registration details.
One FB user can only submit one answer.  One answer is equivalent to one raffle entry.  Given this, users can only win once.
There would be a total of 10 winners of 5,000 worth of McDonald's Gift Certificate and 100 pieces of Medium French Fries BOG cards.
More info at https://www.facebook.com/McDo.ph