Explore and Do More with Dell Promo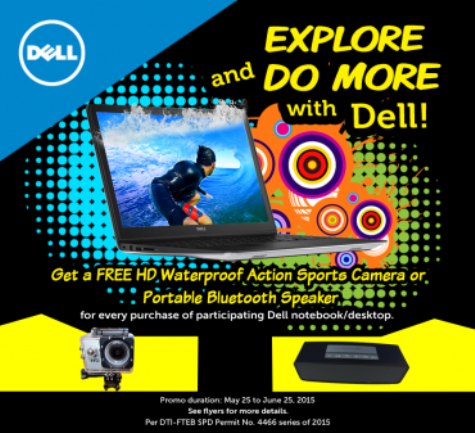 Date: May 25 to June 25, 2015
Description: Head on over to your nearest Dell stores now because they are giving away a FREE HD Waterproof Action Sports Camera or Portable Bluetooth Speaker for every purchase of participating Dell notebook/desktop.
Explore and Do More with Dell!
Promo Mechanics:
This promotion is open to all Dell customers from May 25 to June 25, 2015.
For every purchase of participating Dell products, the customer is entitled to receive a:
Participating models     
Inspiron 3442  Celeron Bing
Inspiron 3451,Inspiron 3531,
Inspiron 3043 Celeron Bing
Inspiron 3442 Pentium,
Inspiron 3442 i3 Ubuntu
Inspiron 3442 i3 Win8.1,
Inspiron 3442 i5 Win8.1 Non Touch
Inspiron 5447 i5, Inspiron 3147 Celeron
Inspiron 5547 i7 Non Touch, Inspiron 7447 i5
Freebies
B-F12 Portable Bletooth Speaker
K-808 Portable Bluetooth Speaker
HD 5.0 MP Waterproof
Action Sports Camera
More info at http://www.smcyberzone.com/promos-events