Stabilo Swing Cool Summer Giveaway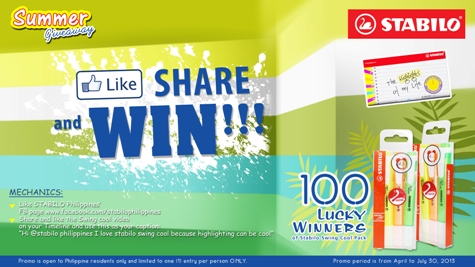 The Coolest Giveaway this Summer!!!! STABILOvers, you can be one of the 100 Lucky winners every week of the STABILO Swing Cool Set Giveaway in just very easy steps….
1. Like Stabilo Philippines FB Page.
2. Share the STABILO Swing Cool Video on your wall and Tag  STABILO PHILIPPINES with this caption…
" Hi Stabilo Philippines I love STABILO Swing Cool because highlighting can be cool…"
3. Promo is open to Philippine residents only and is limited to one entry per person.
4. Entries without tags and does not like the fan page will be disqualified
5. Entries with foul and offensive statements shall automatically be disqualified.
6. Promo period in until June 30, 2013
7. 100 Lucky winners per week will received a stabilo swing cool pack and will be announce in STABILO Philippines Fan Page.
So what are you waiting for, join now and swing your coolest way this summer!!!!!!!