LG Twees & Win Promo LG G2 Edition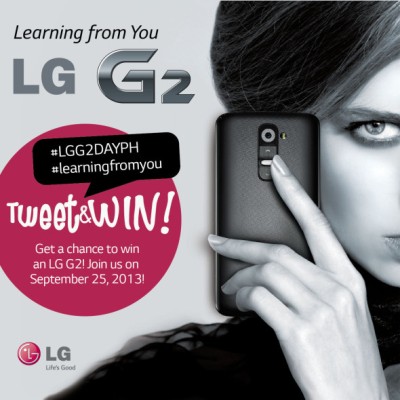 PROMO MECHANICS:
1. Participants must log-in to their Twitter account, FOLLOW @LGPhilippines and TWEET an answer to this question:
What has the LG G2 learned from you that makes it the best smartphone today?
2.  Entries should :
Hashtag  #LGG2dayPH
mention @LGPhilippines.
Sample tweet:
@LGPhilippines  LG G2 has learned how I hold my phone when I answer calls or when I take selfies which inspired them to add the rear button! #LGG2dayPH
3. Participants can send their entries within 12:01AM to 11:59PM on September 25, 2013. Entries before and after this period will be considered invalid.
4. The entry with the most creative tweet will win an LG G2.
5. Consolation Prizes will be given to 5 Runner-ups (5 participants), each will receive a Portable Power Pack.
More info at http://www.lgblog.com.ph/announcements/tweet-win-lg-g2-edition