7101 International Music Festival Design Contest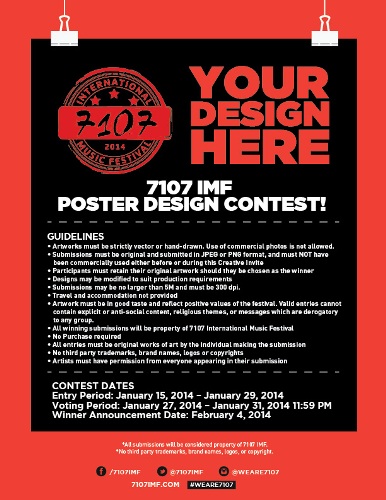 3 winning designs will be produced and featured as part of the official poster for 7107 IMF, with a portion of the proceeds donated to Typhoon Yolanda relief efforts. In addition, winners will receive:
2 VIP passes to 7107 IMF
Exposure and recognition for their submission which will be produced as part of 7107 IMF's marketing materials and further promoted across 7107's social media channels.
How to enter:
Participants must first like https://www.facebook.com/7107IMF  and follow @weare7107 on Instagram.
Create an original piece (meaning completely orginal. No commercial used content or anything that isn't yours basically.)
Submit and upload your design on Instagram and facebook using the task #weare7107 and #designx7107. Also send a copy to contest@7107imf.com/
Share your artwork. Get your friends to like and share your work across social networks/
Entry Period: January 15-January 29, 2014
More info at http://7107imf.com/7107-poster-design-contest/