NLEX The Great Outdoors Photo Contest
Win P25,000 Cash in the NLEX The Great Outdoors Photo Contest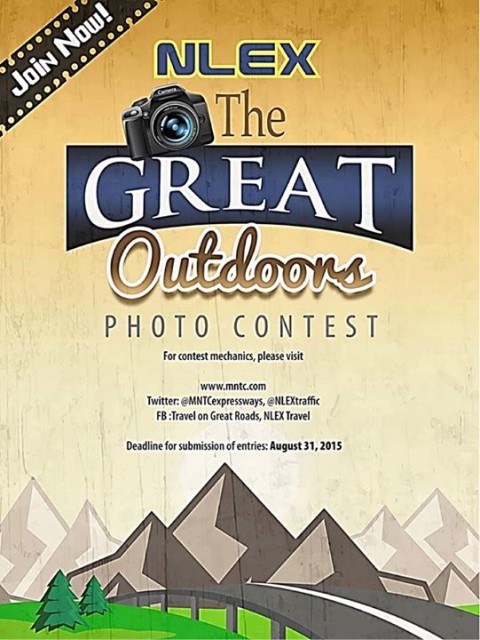 Contest Duration: Until August 31, 2015
Prize: P25,000 (12 winners)
Who Can Join
The contest is open to all Filipino nationals who are at least 18 years old as of January 1, 2015.
Criteria for Judging
Entries will be judged byprofessional photographers.
The criteria for judging will be as follows:
-Content and Concept 35%
-Creativity and Originality 35%
-Photographic Quality 30%
Contest Theme
The Great Outdoors is a world of its own – colorful, radiant, evocative, venturesome, exciting, intriguing, and offers variegated meanings to the looker.
NLEX will now identify itself with – and claim – the Great Outdoors. In North Luzon and Central Luzon. Featured here are the NLEX and SCTEX.
In a manner of speaking, our expressways are very much a part of The Great Outdoors!
Tollways are those gleaming stretch of roadways, going straight into the horizon, meandering through mountain sides, or traversing lengths with lakes, rivers and fishpond by the roadside.
Tollways are the platform from where you glance at the layers of cumulous clouds in shades of silver, blue and gray in the mountain ranges. Tollways are the vantage point where you can see rhythms of greenery as far as the eye can see in the central plains.
The subliminal message is compelling: "Thanks to NLEX, we can see and experience these places, meet these people and have a taste of food, arts, and fresh air wafted from verdant fields."
Full Mechanics at http://www.mntc.com/
Per DTI-FTEB SPD Permit #10009 Series of 2015.