Sony Shoot & Travel Raffle Promo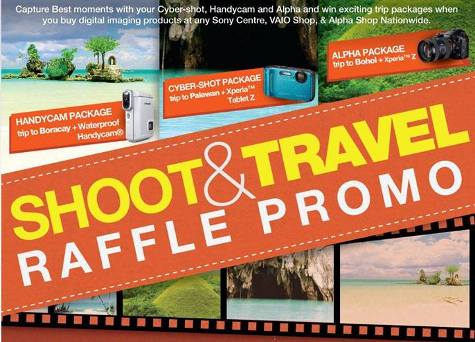 Feel like taking a trip to Boracay, Palawan or Bohol? Capture your best moments with your Cyber-shot, Handycam and Alpha, and win these exciting trip packages when you join the Shoot & Travel Raffle Promo!
1. Raffle promotion is from Aug.15, 2013 to October 16, 2013. All entries must be submitted by store closing time of Oct.16, 2013.
2. All customers who purchased digital imaging products such as Cyber-shot, Handycam and Alpha/NEX products at any of our Sony gadget stores nationwide are qualified to join the raffle promotion.
3. Customer must fill out necessary information in the raffle stubs:
– Name – Address            – Telephone/Mobile
– Store  – Signature
4. Completely filled out raffle stub coupons must be drop off to the designated drop box located inside the shop
5. Customer may win one of the following raffle prizes:
Handycam Package
– Roundtrip Airfare to Boracay and 3 days 2 nights hotel accommodation for (2) two
– Handycam Water-proof camera
Cybershot Package
– Rountrip Airfare to Palawan and 3 days 2 nights hotel accommodation for (2) two
– Xperia Tablet Z
Alpha Package
– Roundtrip Airfare to Bohol and 3 days 2 nights hotel accommodation for (2) two
– Xperia Z
6. Raffle draw will be held on Oct. 30, 2013, 6-7PM at the Sony Phils. office with the presence of a DTI representative.
7. A customer can only win once. If name is drawn more than once, he/she gets the prize of higher value.
8. Winners will be notified through registered mail and a call from Sony Phils. List of winners will also be posted at participating outlets and at www.sony.com.ph. All prizes are transferrable but not convertible to cash.
9. Prizes should be claimed within 60 days from receipt of notification. Otherwise, prize will be forfeited in favor of Sony Phils. with prior approval from DTI.
10. Winners should present one (1) valid ID's with photo, raffle stub and registered mail sent by Sony Phils. plus original purchase invoice for major draw winners. Tampered or photocopied invoice will not be accepted.
11. Winners may claim their prizes at the Sony Head Office at 11th floor, Marajo Tower, 312 26th Street West corner 4th Avenue, Bonifacio Global City. Winners from province may claim from Sony Centre, VAIO Shop or Sony Experience Corner of where they dropped their winning entry.
12. Employees of Sony Philippines Inc., authorized Sony dealers and outlets, Sony Promoters, spouses and its affiliate companies, their advertising manpower and security agencies, and their relatives up to the second degree of consanguinity or affinity are not eligible to join this promotion.
More info at http://www.sony.com.ph