SIZE Matters SM City North Edsa Monster Challenge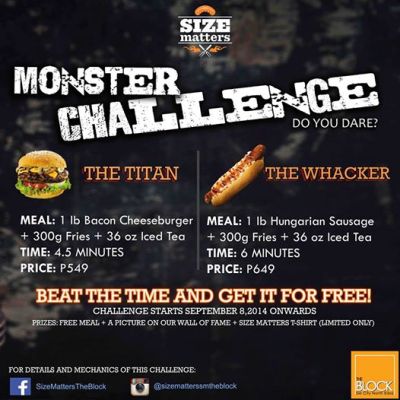 SIZE Matters SM City North Edsa The Block celebrates its 1st Year Anniversary this month of September! They are challenging all big eaters out there to take on their Monster Combo and claim a spot on their Wall of Fame.
Mechanics:
1. Challenger is not allowed to slice or disarrange the TITAN/WHACKER in any way until the timer starts. He/she is only allowed to add condiments (Catsup, Mustard, Hot Sauce, Mayo) in preparation for the challenge.
2. The challenger will only be declared a winner if:
a) ALL contents of the Monster Challenge Tray has been consumed (no food/drinks left on the tray) when the time expires
b) Challenger proves he/she has completed the challenge by showing the facilitator an empty mouth
3. Once declared winner, he/she will not be allowed to take on the same challenge again unless invited by the company for a certain event.
Grounds for disqualification:
1. Vomiting
2. Substantial food falls off the table
3. Sharing
*In cases where rule is not covered by the ones written above and a judgment call has to be made, decision lies within facilitator's discretion.
More info at https://www.facebook.com/SizeMattersTheBlock