Win tickets to the NBA Global Games Philippines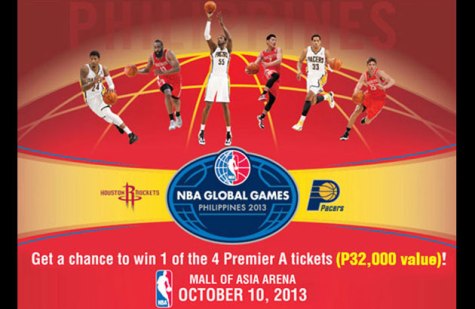 Get a chance to win 1 of 4 Premier A tickets to the Global Games worth P32,000 each! Brought to you by The SM Store and Tuesday Licensing Inc.
How to join:
Buy a minimum of P500 worth of NBA products from August 15-September 15, 2013 in selected The SM Store Branches Nationwide.
Present your official receipt/s at the Homeworld/Canadian Promodisers or Men's Accessories/NBA socks Promodisers of The SM Store Branch of purchase to receive a scratch card.
Log on to ph.nba.com/tuesdayggp, read the promo mechanics, complete the form to qualify for the raffle. Register again if you have more codes to get more chances of winning!
Winners will be announced on September 30, 2013 on ph.nba.com and an official email will be sent to the winners. Winners should bring their Official Receipt/s and scratch card with unique code upon claiming their prizes.
Who are qualified to join?
The promo is sponsored by Tuesday Licensing c/o The SM Store to be hosted through the website of NBA.com Philippines (ph.nba.com). The promo is open to all interested participants within the Philippines.
Participants are entitled to one (1) raffle entry for a minimum purchase of P500 (accumulated receipts) worth of NBA products from August 15 to September 15, in selected The SM Store Branches nationwide.
More info at http://ph.nba.com/tuesdayggp